How to Clean Aluminum Water Bottles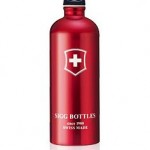 For the last few months, I have been using an aluminum water bottle at work.  This thing is great because it keeps me hydrated at work and is fairly hygienic.
These last few days though, I've noticed the development of some bumpy residue that is sticking to the sides and bottom of my aluminum bottle. I've found out that this is just normal oxidation from the bottle's contact with air and water.
Regardless, it's still unsettling to see this kind of growth in my bottle so in an effort to rid my aluminum bottle of these oxidation bumps, this is what I do:
1) Once every 2 or 3 days, I put some (maybe 1/4 full) warm, soapy water in the bottle and shake it up (after capping it, of course) really well. This helps clean the bottle and slow down the oxidation process.
2) With stubborn oxidation bumps, I use aluminum bottle tablets and a special aluminum brush to help clean the aluminum bottles. It's important not to use any kind of abrasive brush on these bottles because it could damage their inside coating and I, for one, would not like to drink aluminum bits that were loosed due to this. You can get the brush and tablets for around $15 on Amazon.


3) Another thing I do on occasion is to use some baking soda and distilled white wine vinegar on the aluminum bottles. Cap it up, shake it up, and check your progress. Step 2 works the best, but this will work in a pinch to help reduce the oxidation.
Cleaning your aluminum water bottle is easy. The key to keeping them clean is regular washing with warm soapy water and the use of tablets and the brush once in a while.
Since writing this post, I've purchased extra bottles to have just about anywhere.  I stash a couple at work, a few at home, and invariably leave one in the car once in a while!  Love my water bottles and hope you take good care of yours!