Random thoughts – Election 2016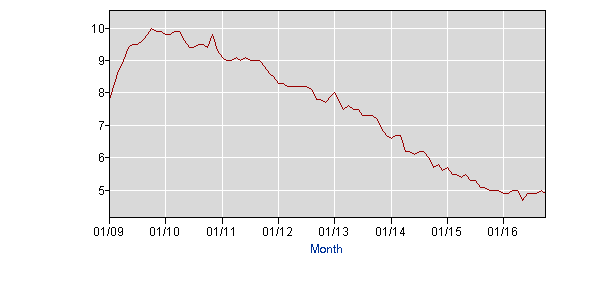 As I sit here quite stunned at last night's election results, I'm looking to the future to see if metrics can be used to measure the efficacy of one political party versus another.  Older and wiser people have told me that you vote Democrat when you're young and have a heart and then vote Republican when you're older and have a brain.
Given that these last 8 years have been seemingly amazing for all sorts of innovation, creativity, freedoms, rights, businesses, jobs, and overall stability, I'd like to write down for the sake of posterity where we stand today so that I can come back to this post later and compare what happened.
Who knows. While I despise the person of Trump, maybe his red House and Senate will make prudent policy.  I doubt it, but I'm saying there's a slim possibility.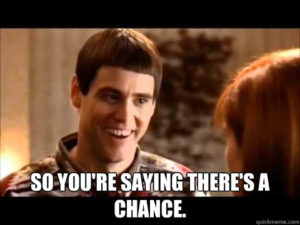 The Markets
Last night as the voting was coming to a close and the numbers started coming in, the futures markets took a nosedive.  People worldwide are scared of what could happen, but let's look at where we stand right now.

The Markets

| Index | Data |
| --- | --- |
| Dow | 18,332.74 |
| Nasdaq | 5,193.49 |
| S&P500 | 2,139.56 |
Jobs & Unemployment
When President Obama took office in 2009, the unemployment rate was quickly rising to almost 10% of people aged 16 and over.  According to the Bureau of Labor and Statistics, it is currently at just under 5%.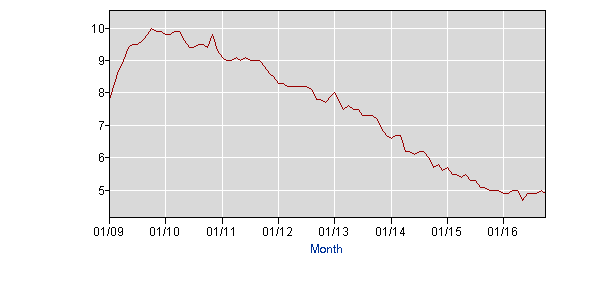 General Figures
These are the prices of common goods so we can look back and see how they fared in 4 years.  All data from bls.gov website.
Cost of Goods

| Index | Data |
| --- | --- |
| Gallon of Gas | $2.26/gal |
| Milk | $3.29/gal |
| Eggs | $1.41/doz |
| Coffee | $4.37/lb |
Presidential Approval
Another thing that would be interesting to note is the presidential approval rating.  President Obama has been a polarizing figure of historical proportions with I believe an equal feeling of Love and Hate from opposing parties.  I feel that Trump will have the same sort of relationship with "we the people" though he will have more support from a red house and senate.
President Obama's current approval rate is sitting at 52% according to RealClearPolitcs.com. We'll see how Trump fares in four years.
The Almighty Dollar
Somewhat related to the markets table above, this would be an interesting metric to track.  How will the Dollar do in four years?
Right now, $1 is equal to .91 Euros and .81 British Pounds.  There are smarter folks out there who can interpret the USDX index to get a better weighted average of the buck but I am not going to do that. 🙂